[The cover image of every post in this series is an apolitical mock flag design of my own creation. The flower overlapping the star is a pansy, which represents Free Thought. I will eventually discuss political symbolism in Part 9.]
In America, and most of the political world, the terms "right" and "left" have become an all-encompassing binary. In my personal experience, boiling down such a complex topic as political science down to one overarching competition has helped to make society more tribalistic and polarized. You bring up women's issues, like catcalling, and someone goes off on a rant about "the Left" and "snowflakes" before even hearing you out. Openly share even one position with a Republican and suddenly a not insignificant collection of the left-wing lumps you in with every negative action that anyone under a right-wing banner has ever done. It's toxic to our healthy discourse, no matter what "team" you're on. A healthy dialogue is essential for a democracy to function; that means this new "with me or against me" posturing is a threat to our country as well as our collective sanity. In the first place, people are not so easily categorized into a single box. Sometimes the terms left and right are useful for grouping politicians or ideologies together in a logical spectrum, but I feel it has become an excuse to dismiss others who don't fall into the same camp.
Over the last few years, I've come to appreciate the Political Compass, largely because it acknowledges there are multiple factors which determine one's overall philosophy. There's a massive difference between Stalin and Chomsky or Hitler and Ron Paul, for example. Unfortunately, for all its merits, I now believe the Political Compass doesn't go far enough. After seeing "the Left" and "the Right" blame each other for Globalism and its effects during the 2016 election, I strongly believe that there ought to be an additional z-axis measuring Isolationism to Globalism, at the very least. Once that can of worms was opened, I began adding several more dimensions to my idealized model of the spectrum before I was satisfied that every conceivable category was covered. The end result is what you're reading here; this is a multi-axis guide to political science which I call The Political Atlas.
This spectrum will be accompanied by definitions of all relevant terms and major ideologies. (Copied or paraphrased from Wikipedia while checking its various citations and alternate sources for authenticity.) I'm defining each relevant word because, again in my experience, ignorance of what most of these terms actually mean is another major impediment towards a healthy political dialogue in America today. We must work from a common definition when we converse about any subject, or else nothing productive can be accomplished. Ideologies should be used to propose and categorize possible avenues for our future, not as baseless slander to silence political rivals.
Now, to begin with, let's define the terms "Leftism" and "Rightism" themselves.
The simplistic political model I was taught in seventh grade had five main classifications: Radical-Liberal-Moderate-Conservative- Reactionary. You'll also commonly hear about "horseshoe theory ' which states that those on the furthest ends of the Left-Right spectrum paradoxically share more in common than those in the Center.
For now, let's define some of these terms and some related, common classifications one often hears about in American day-to-day politics. In the first place, one must be aware of the Overton Window which refers to the ideas the public will accept in political discourse. Since the Reagan Revolution in 1980, this has skewed further and further to the Right in America. This is important and one must keep in mind that just because a politician or idea is considered Left-wing in America that does not mean they are actually left of center on the Compass itself; just left of center to the usual American discourse. In fact, if you go to the Political Compass website, all mainstream politicians sans Bernie Sanders fall in the Right-Authoritarian quadrant (more on the quadrants later.)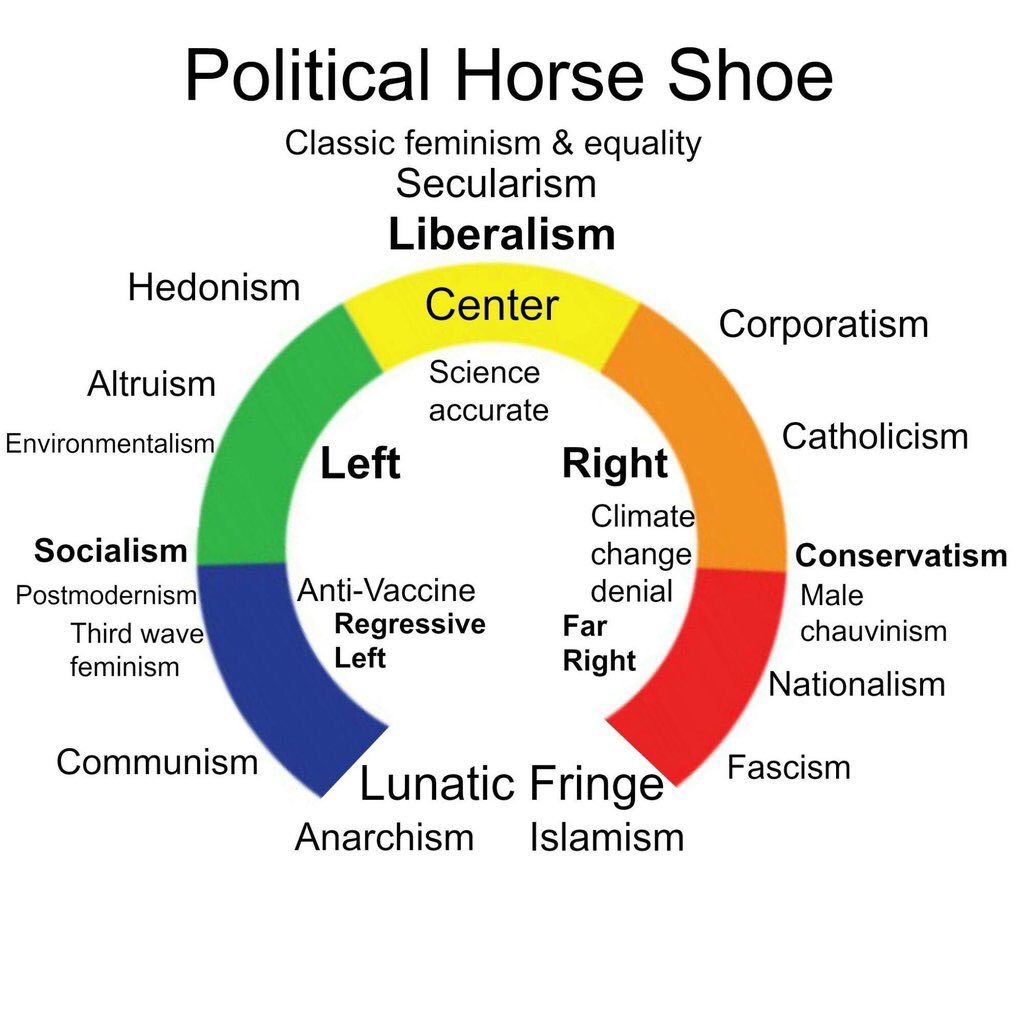 Rightism
Broadly, right-wing political theories hold that certain social or economic hierarchies are natural, normal and even desirable. During the French Revolution, where the terms Right and Left were first used in politics, the people seated in the Right of Parliament advocated upholding certain institutions of the old Monarchy. Various ideas associated with the Right include Monarchy, Aristocracy, conservatism, Capitalism, Fascism, Objectivism, Nazism, and Nationalism. Beginning in the mid-1800s, the Right-wing came to be defined as supporters of Capitalism as opposed to Nobility.
Leftism
Broadly, Left-wing political theories hold that the ultimate goal for society should be social and economic egalitarianism and opportunity. During the French Revolution, those seated in the Left of parliament strongly opposed all institutions of the old Monarchy, and supported moves towards Republicanism and secularization. The term has been applied to Liberalism, Socialism, Anarchy, Communism and a host of socio-political movements such as civil rights, feminism, environmentalism and anti-war sentiments.
Outside the Traditional Binary
Since the late 70s and 80s, two new ideologies have emerged at the forefront of both major parties. These are the unfortunately named neoconservatism and neoliberalism. Despite what their names imply, they are not directly linked to paleo conservatives and liberals, nor is either one limited to a single major party. (There are neocons and neolibs in both.) They're not even mutually exclusive with each other for that matter.
Neoconservative: Begun in the 1960s when "Liberal Hawks" grew disenfranchised with the Democratic Party. Many members of the George W Bush administration, especially Paul Wolfowitz, and their foreign policy initiatives, are considered neoconservative. It entails promoting American democracy (at least nominally) in foreign countries and an overall hawkish foreign policy to promote American interests abroad.


Neoliberal: A promotion of lassiez-faire capitalism, including privatization of previously government-controlled agencies or functions, austerity, deregulation, free trade and an overall belief that the private sector can do most if not all things better than government. Since Ronald Reagan, this has been the prevailing attitude of Republicans, and since Bill Clinton it has also become central to most Democrats' economic policies as well. In many ways the 2016 election may be seen as a nation-wide repudiation of this ideology, since Bernie and Trump both gained considerable ground by criticizing the impact of these measures on the rust belt cities and middle class.
In my personal opinion, both Neoconservatism and Neoliberalism are the two worst things that have ever happened to the American political spectrum. This is why it is wrong to blame globalism and the endless wars on "the left" or "the right" alone, as they are outside the traditional definitions of either. In addition, neither major party can take all of the blame since both ideologies permeate each. As you can see, there is nothing inherently focused on foreign intervention or investment in either Right or Left wing ideologies. So, currently, this important information is not properly represented if the spectrum is visualized as a simple 1-axis binary. Worse yet, because of the misleading names, it's next to impossible to have an intelligent conversation about neocons or neolibs with the average layman.
Another term you might hear a lot about in the media which falls outside the traditional Left-Right, Democrat-Republican binary is Populism. This may be defined as a political approach that seeks to disrupt the existing social order by solidifying and mobilizing the animosity of the "commoner" or "the people" against "privileged elites" and the "establishment". Populists can fall anywhere on the traditional left—right political spectrum of politics, and often portray both bourgeois capitalists and socialist organizers as unfairly dominating the political sphere. Political parties and politicians often use the terms populist and populism as pejoratives against their opponents.